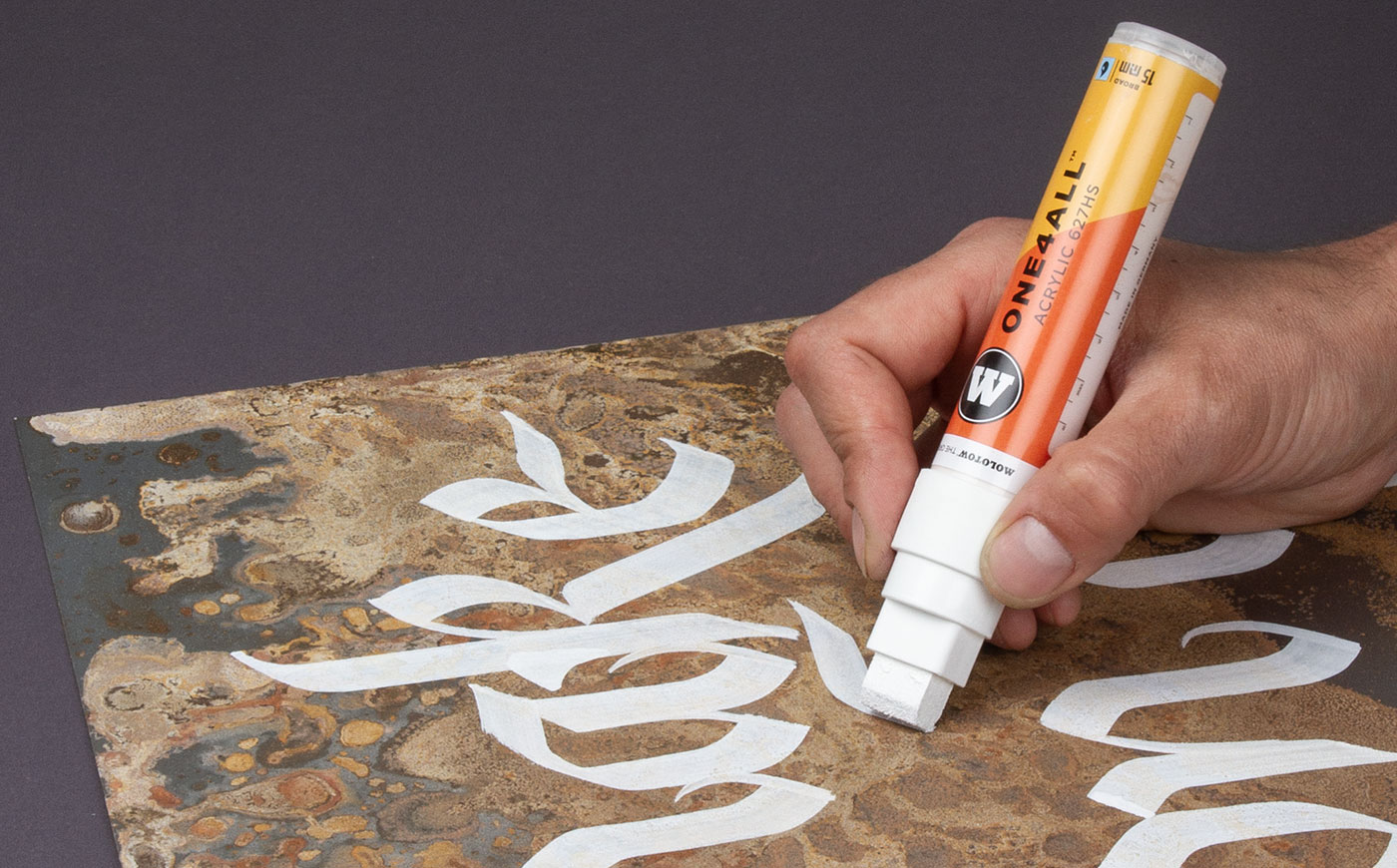 The ONE4ALL™ marker system
ONE4ALL™ ACRYLIC MARKER SYSTEM Nothing is impossible! UV-resistant ONE4ALL™ markers are suitable for most surfaces, making it the most comprehensive and sustainable acrylic marker system on the market.
The ONE4ALL™ ink was especially developed to be used with MOLOTOW™ spray cans. Different techniques can be applied, depending on the spray can range. When applied over dry spray paint, such as BELTON™ PREMIUM spray paint, the color shades compliment each other and can be mixed perfectly together.
MAIN FEATURES
Acrylic-based
Semi-gloss
Highly opaque
Permanent
Strong UV resistance (except fluorescent neon)
Quick-drying
Paint: non-toxic
Dilutable with water or acetone (1–3%)
For most surfaces (check for compatibility first)
For indoor and outdoor use
Refillable (min. 50 times)
Exchangeable tips
Mixable
Perfectly suitable for airbrush guns
Compatible with MOLOTOW™ spray paint
1 Exception: fluorescent neon colors.

2 Check surfaces for compatibility before application.
FOR MOST SURFACES
While ONE4ALL™ markers work on most surfaces, it's important to first test them on a hidden spot for compatibility. The wrong pre-treatment, an unclean surface or frequent use of the painted item could reduce paint quality and color vibrancy. Please note that smooth and non-absorbent surfaces are naturally better suited for painting than absorbent, flexible and uneven surfaces. All examples shown here are for decorative use only.
FOR MOST APPLICATION TOOLS
Video Tutorial – MOLOTOW™ ONE4ALL™ MARKER