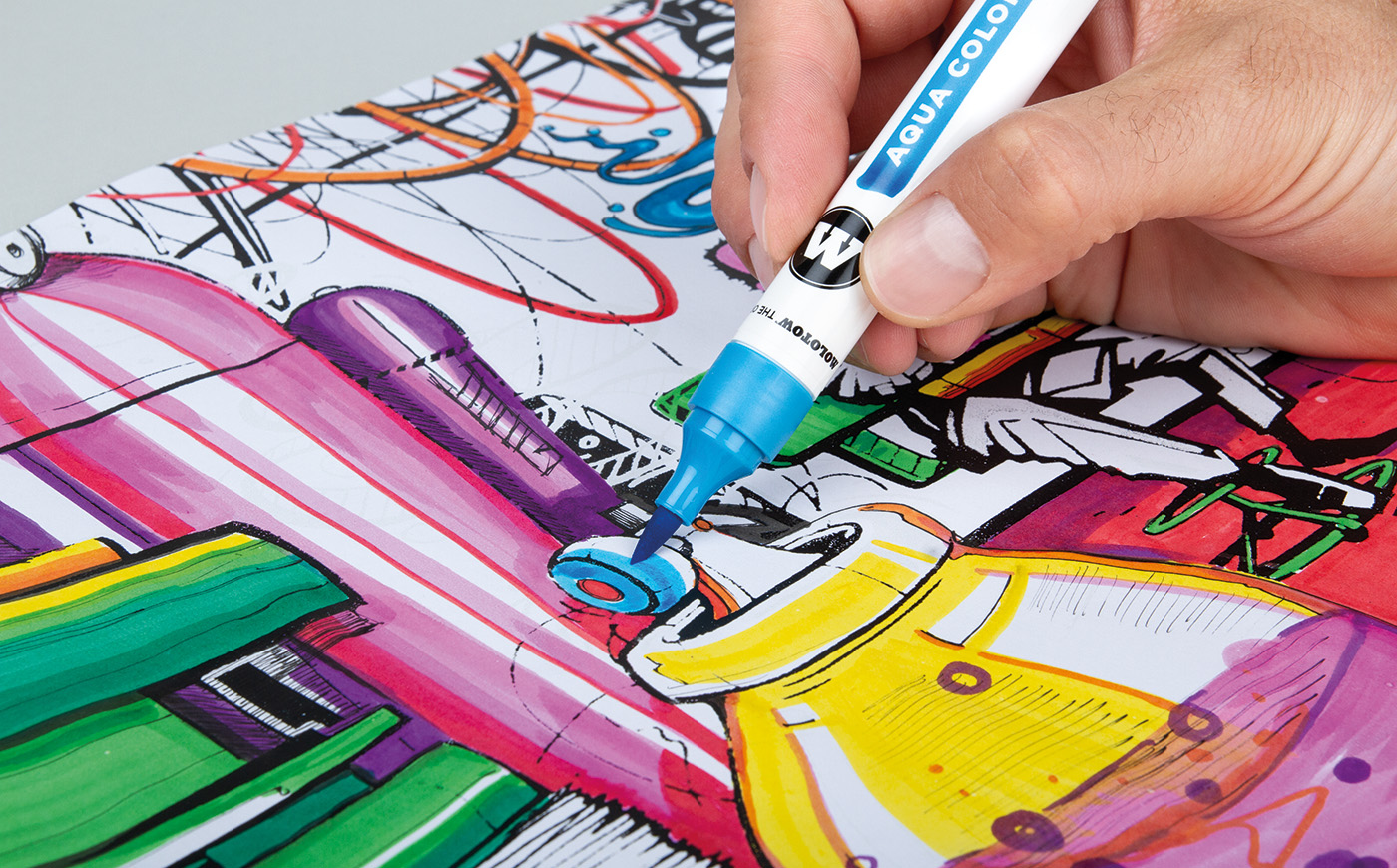 AQUA COLOR BRUSH
COLORING, SKETCHING, HAND LETTERING
The AQUA COLOR BRUSH marker has a durable, elastic brush tip that is highly sustainable and easy to use. The ready-to-use marker provides precise ink application that is perfect for coloring, sketching and hand lettering in watercolor style. The odorless ink makes this marker perfect for indoor use.
The AQUA COLOR BRUSH markers are available in 24 colors and refillable bottles. This makes it easy to mix own color shades, which can be filled and stored in the corresponding EMPTY BRUSH empty marker. The ink is also dilutable with water to create special effects like translucent color shades. For more information, see the AQUA COLOR Marker Systems User Guide.
Further information you can find in our AQUA COLOR Marker Systems User Guide.
MAIN FEATURES
Water-based
Color intense ink
Transparent
Water-soluble
Quick-drying
Ready to use
Odorless
Ink: food-based colorants
Easy handling
Dilutable with water
12 color shades (refills available in 24 colors)
Fiber rod system
Durable, elastic brush tip for precise, comfortable application
Safety cap
Refillable
Mixable
Exchangeable tip
Ideal for coloring, lettering, hand lettering and calligraphy
Compatible with MASKING LIQUID and BLENDER PRO Aqua Medium
"Cap Off" function without drying out (up to 24 hours)
DISCOVER NEW APPLICATIONS
Due to the elastic brush tip and the durable marker body, AQUA COLOR BRUSH markers have a comfortable grip and are perfectly suitable for a variety of applications.
Fine detail for comic style
Colorings for conceptual art
Highlights and gradations with AQUA SQUEEZE PENS
Hand lettering and calligraphy
Mixing and storing own color shades with the EMPTY BRUSH
APPLICATION EXAMPLE—MOLOTOW™ AQUA COLOR BRUSH